I read so you don't have to!: Family Dialogue Journals 101 – Creating Strong Bonds with Families
Using Family Dialogue Journals to Honor Family Knowledge and Cultivate Strong Community
A summary of the professional book Family Dialogue Journals by JoBeth Allen, Jennifer Beaty, Angela Dean, Joseph Jones, Stephanie Mathews, Jen McCreight, Elyse Schwedler, and Amber Simmons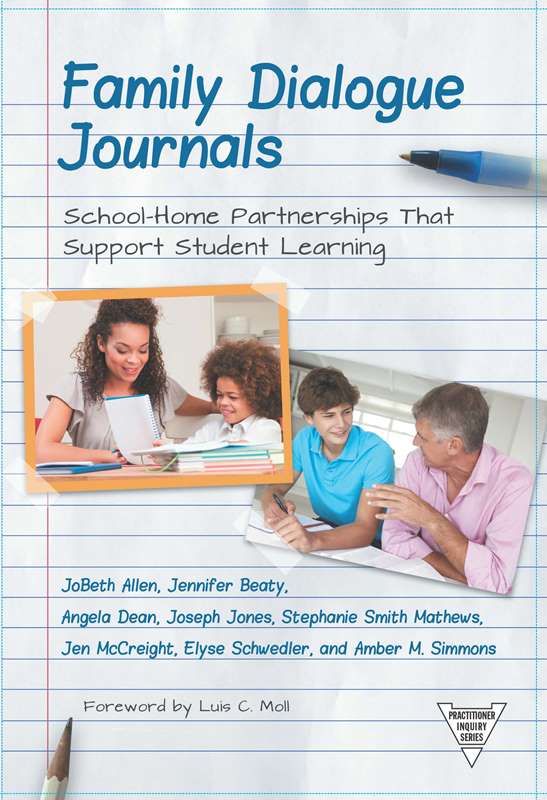 TL;DR: A Family Dialogue Journal is a journal that travels back and forth between school and a student's home. Teachers, students, and family members engage in a written dialogue about issues pertinent to both class and home life. 
I did away with grades in my middle school English classroom last year. The process of de-grading and de-testing brought with it a number of logistical and pedagogical challenges. How would parents know what their child was up to in English class? By removing grades I had removed the primary mechanism of keeping families involved in their child's education. I needed a way to keep parents engaged without relying on letters or numbers.
I attempted to create a system where students wrote to their families every day. Every lesson ended with five minutes of reflective writing on the day's objective. What did they learn? What was the point? What components of the lesson did they find enjoyable? (This was before I read teacher scholar Joe Bower's wonderful blog post questioning the dominant logic of writing down a fixed, measurable lesson outcome on the board every day.) While I thought the activity had its merits, my students hated it. They took every opportunity to let me know how they felt about it during our end-of-year portfolio conferences. I don't blame them. Since I didn't start until the third quarter, I hadn't set a precedent or routine for the writing. I  wasn't able to have a vision for the writing, either.
Without grades, every family would be left in the dark unless I found a way to somehow invite them into the class and engage with what their child was learning. I knew I had to improve my system for the upcoming school year.
Family Dialogue Journals provides an excellent introduction into the world of family journaling. At its core, family journaling attempts to build classroom community by engaging teachers in written dialogue between students and their families. This post will provide a summary of the useful information in this excellent book.
Chapter 1: Why Use Family Dialogue Journals?
What is a Family Dialogue Journal (FDJ)? Although there isn't a single "best practice" approach, every FDJ has at its core an ongoing written conversation between teacher, student, and family. With more and different skills required of students and teachers, parents need to know what their children are learning. FDJs provide a way to let parents really know and take part in their child's learning. FDJs can act as as a two-way bridge, not only sharing information with families, but soliciting and incorporating family knowledge and into the curriculum.
Benefits of implementing FDJs include:
-Families connect to life in the classroom
-Family voices contribute to the curriculum
-Teachers extend curriculum through authentic sources of cultural and linguistic diversity
-Students learn about their families' experiences and opinions
-Students who speak more than one language develop biliteracy
-Teachers provide writing craft lessons for authentic communication
-Students refine questioning skills, develop critical literacy, and engage in social-justice issues in their lives and community
FDJs carry with them some ethical and logistical concerns. There is no single best approach to incorporating them or dealing with the myriad issues such communication can create. Different family schedules means some children might need to use a faculty member to write to instead of a parent. Opening up a space for dialogue means being prepared to handle whatever comes out. Be ready to read things that will throw you off guard. Have discussions with any child and family that pops up on your teacher radar for any reason.
"This families-as-funds-of-knowledge stance involves a shift from thinking about what families can't/won't/don't do to what families do, how they do it, and how children can learn with and from their families."
Chapter 2: Getting Started
The second chapter explains how FDJs can serve a variety of purposes. For instance, they can be used to increase family participation, value family funds of knowledge, and incorporate critical thinking skills. The chapter discusses the importance of communicating the purpose and function of the FDJ to families from the start of the school year. The authors did this by writing home letters, speaking with families during school events, etc. Set a strong foundation to make sure everyone understands that the purpose of the FDJ is more than just busy work. Teachers should also communicate about the FDJs with administration to make sure everyone is on the same page.
There's no one way to schedule and facilitate FDJs in the classroom. Use journals on a one or two week cycle. Create the questions yourself or allow students to come up with a few. Make sure to bring students into the problem-solving process if you see something not working. Sharing is equally flexible. A few students can share to the whole class each day. Students can share in small groups if time is an issue. After responding, a student can call on his or her peers to ask clarifying questions or to speak on a related topic. In terms of responding, try to write a few sentences in every FDJ every cycle. Be prepared for families to not always answer. Sometimes family responses will be short. It's all part of the process. Flexibility is key.
"It takes resolve, perseverance, and creative thinking to maintain some semblance of regularity in completing the journals, sending them home, and carving out time for sharing responses the following week."
Chapter 3: Generating Journal Entries
Generating effective questions requires constant collaboration and reflection by both teachers and students, especially during the beginning of the FDJ process. Teachers can use journal entries focus on literature. Incorporate the FDJ into whatever topics your students are reading about. Link the FDJ prompts to your essential questions and enduring understandings. Use the journal to help your students learn more about their family's heritage.
Creating effective, productive questions is an art. Help students learn this essential skill by teaching it and practicing it.
Chapter 4: Going Home
The authors of the book required their students to take their FDJs home every Friday. They wrote to a variety of family members in and out of their primary residence: moms, dads, grandparents, siblings, uncles, aunts, etc. Be sure to have Google translate and/or any school linguistic resource on hand. Families should be allowed to respond to the FDJ in whatever method, language, and format works best for them. If the journal isn't making it home or if you aren't getting any responses, don't be afraid to talk with the student to find out why. Make sure that you have effectively conveyed the function and expectation of the FDJ. Many families might not know what they're supposed to do, or how they should go about doing it. Remember that this type of family communication will be as new for them (most likely) as it is for you!
"View each lack of a response as an opportunity to better understand a student and/or family, to adapt the process for an individual or the whole class."
Chapter 5: Sharing Responses
Sharing increases motivation for students to complete and return their FDJs. As mentioned above, sharing FDJs can come in many formats. Work together with students to develop sharing norms and spend time practicing them. Don't just assume that this comes naturally. Think about creating mini-lessons on selecting the sharing order and how to ask and answer questions. Consider making group jobs like timekeeper and material manager. Stay in the moment and open to discussion on anything that comes up. It's likely that your sharing processes will evolve with classroom needs and students' input.
"The written dialogue is reason enough to pursue FDJs with students and families; orally sharing the journals makes the process even more meaningful. Together, written and verbal sharing create personally relevant academic conversations where all parties can learn about and from one another."
Chapter 6: Creating Connectional and Critical Curriculum
Connectional curriculum (a term new to me) links classroom learning with families and communities. This doesn't mean parents helping out with math homework or signing a reading log. Connectional curriculum grows from what we learn about each student's family's experiences, jobs, histories, and opinions. The authors also make a case for using FDJs as a vehicle for social-justice. This type of critical curriculum supports the questioning of dominant cultural practices while encouraging action on a wide variety of social topics.
Use family knowledge to build community: students can learn about the history of their name, for instance, or find connections with the familial circumstances of other students.
Connect curriculum to FDJ entries: What do you know/celebrate about Earth Day? Can you show me how you would solve 59 divided by 4? Where on the map did your family stories take place? Have you ever written poetry?
Lastly, help students use their FDJs as a springboard for developing a critical lens.
"Through the FDJ process, we are better able to 1) take into account student interests, 2) incorporate family funds of knowledge, 3) build on the vast resources of cultural and linguistic diversity within and beyond our classrooms, and 4) encourage critical thinking about social issues."
Conclusion
FDJs became a critical component of a dynamic classroom for each of the teachers involved in this book. Teachers were able to deepen relationships between every stakeholder in the education process. Families, administration, teachers, and students were all connected through intentional writing and sharing.
The book ends with a few miscellaneous suggestions for incorporating the FDJs.
-Use the journals for particular units
-Teachers can alternate who uses FDJs throughout the year
-Schoolwide implementation
-Make FDJs multimodal by allowing images and technology to facilitate the conversations
"As with anything worthwhile, there will be trial and error, pitfalls and setbacks. During such struggles, we tried to reflect and discuss with families, students, and other educators. All the while keep the purpose front and center: creating a dynamic family-school learning community."
I can't wait to begin the FDJ process this September! Thanks for reading.